El Camino de Santiago--Camino francés
The WaY of St. JAmes--The French Road
| | | |
| --- | --- | --- |
| | Reflections & Advice | |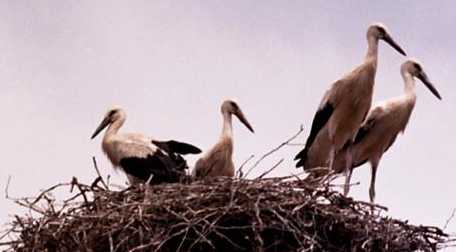 Follow the drinking gourd
Follow the drinking gourd
For the old man is going to carry you to freedom
If you follow the drinking gourd.
From May 29 to July 6, 2004 I walked the most popular variant of the Way of St. James (El Camino de Santiago), starting from the French town of St.-Jean-Pied-de-Port and ending in the north-western Spanish town of Santiago de Compostela. I then (July 7-9) walked on to the coastal town of Finisterra (or Fisterra). The total distance was about 860 km (538 miles). I thus averaged 20 km (14 miles) a day, ranging from 0 km for the shortest day to 52 km (33 miles) for the longest. This brief page complements existing, excellent, internet sources about the Camino in 2 different ways:
Practical Advice
Fly to Bayonne, France, if you can. I made the stupid error of flying to Geneva, Switzerland, from Detroit, USA, because a two-way ticket to Bayonne would have initially cost me additional $200. Had I been wise enough to Bayonne, I would have ended up saving $400 and 2 days.
If possible, buy a one-way airplane ticket, or a two-way ticket with an open date for the return flight. Some people can't finish the Camino and must return home earlier than they planned to, while other people take longer. Flexibility is worth a great deal.
If you must buy a two-way ticket, give yourself at least 5 more days than you think you'll need. On the Camino, one often sees people rushing, stressing their body and minds, rarely taking side trips or stopping to smell the potatoes, because they ran out of time. If, on the other hand, you finish the Camino early, there are 1001 trips, hikes, and things to do in the Santiago area.
Never forget: it's the journey that counts, not the destination. Many people are too anxious to reach Santiago, treating the Camino as an obstacle course. They often end up disappointed, because there is nothing special about Santiago (Astorga in my view is more beautiful, for example). The Camino is not about reaching Santiago, or Finisterra; it's about every second, minute, hour, day, along the way.
Try to carry as little as you can, even if you are in excellent shape. The heavier the load, the greater the likelihood of serious knee, ankle, shin . . . problems.
The Camino signaling system is excellent; still, you should be aware of the general direction you are taking (usually SW or NW), and make sure occasionally that you are indeed following it. When in doubt and alone, a compass can decide the issue. A little hand compass (the can you attach to your watch) weighs and costs almost nothing--wear it!
I walked the entire Camino (in June and July) in hiking leather sandals (maker: Teva; style: Universal) and, consequently, enjoyed a comfortable, blister-free, smell-free, walk. Moreover, I had less to carry (most people wear shoes and carry sandals; I had only sandals). So, if you like sandals, bring both shoes and sandals but start walking with sandals. If this works, send your shoes home or to Santiago.
I'd definitely recommend ending your trip by the sea (Cee and then Finisterra). The camino involves walking for weeks parallel to the ocean, and it's only natural to want to see the ocean at the end. The 88 km from Santiago to Finisterra comprise some of the most beautiful scenery of the Camino, and they certainly offer a welcome change from wheat fields and cow pastures. They are part of the ancient pilgrimage. Most people quit in Santiago, so this part affords greater solitude than the rest of the Camino. The sea at Finisterra, and Finisterra itself, are beautiful. For all these reasons, I suggest going to the sea.. If you are worried about time, skip (take a bus) 3 days between Burgos and Leon, and use the time saved to walk to Finisterra.
Tent

Mattress

Jacket or sweater (a T-shirt and two long-sleeved shirts can take care of the coldest June morning)

Insect repellant (I only encountered 2 mosquitoes on the trail; it this changes, you can always buy repellant en route),

Dog (there is often too much traffic nearby, so dogs must often walk miles and miles on a leash. They can't do that. I met two dogs on the trail, and both started perky enough. By the tenth day, however, both limped horribly and had to be sent home. For your sake and theirs, leave them home. If you need a guide dog, use a human guide instead--bring one or find volunteers on the trail itself).
I'd recommend walking alone at least part of each day. Many people walk in pairs or larger groups the entire way, incessantly talking and interacting with others. They miss, I think, a key part of the experience--walking alone, with only themselves, land, and sky for companions. Even if you come with a spouse or a close friend, do spend the first hour of each day walking alone, after agreeing to meet someplace down the road.
You only need to master basic phrases in Spanish to get by. However, a working knowledge of Spanish will make life on the Camino easier and open for you a wonderful window into Spain. Indeed, you can turn the entire Camino into a free, hands-on, Spanish class. To do that, bring a paperback dictionary along, buy a Spanish-language Camino guide, and read Spanish newspapers and books (carry one book at a time and trade it) in your free time (you'll have plenty). Most important, spend a fraction of each day interacting with Spanish speakers.
Should You Take the Camino?
I'll assume now that you are wondering whether to wander the Camino, and try to help you make up your mind.. To begin with, two classes of people should definitely take the Camino:
If you actually believe that taking this road will expiate your sins, you can do either one of two things. You can read the Gospel according to St. Matthew and discover that Catholicism (like all other organized religions) is riddled with misconceptions (see also, for instance, Russell's Why I am Not a Christian). If you don't have what it takes to get out of that box, then by all means take the Camino and improve your chances of moderate weather in the hereafter.

If your usual mode of travel is organized tours, take the Camino—you have nothing to lose but your chains. The Camino, in that case, may very well be the best vacation of your life, for it will help you discover that there is more to travel than being led by the nose. You'll encounter freedom, self-reliance, self-discovery, the real Spain (as opposed to the canned one of organized tours). And, once you stumble across the joys of independent travel, you'll perhaps gain enough confidence to take charge of your own future vacations.
We are now left with the question: Should non-Catholics who have already discovered the joys of self-reliant travel take the Camino? There is no easy answer to this. If your primary goals are solitude, privacy, silence, wilderness, breathtaking landscapes, wildlife, or challenging hikes, the Camino is not for you. Take instead something like the Pacific Crest Trail or the Hindu and Buddhist pilgrimage to Gosain Pond. Another way of putting this: If you do not wish to spend a vacation with many people, often on or within earshot of noisy highways, on asphalt and gravel roads, amidst wheat fields or vineyards, in the company of cows and sheep, then the Camino is not for you. If you wish to escape the sights, smells (e.g., cow manure), and sounds (cars, church bells) of civilization, then the Camino will bring you little joy.
There is yet another annoyance which makes the Camino less pleasant than it could be. Most people stay in the cheap ($3-5 a night) barracks-style inns (albergues), which, despite the crowds and inconvenience, are really preferable to hotels, for they are part of the overall pilgrimage experience. Typical pilgrims start walking at 6-7 a.m. and reach the inn at about noon. The genuinely hospitable inns are already open by then, so that pilgrims can get in upon arrival, unload their packs, shower, rest, or go out to explore the new village or town. But quite a few inns open their doors at 3 or 4 p.m. (e.g., the inn at Roncesvalles), forcing the weary pilgrims to either wait hours or go on walking in search of a more hospitable inn. You will need to take this recurring annoyance into consideration before deciding to walk the Camino.
But, despite this recurring annoyance, despite the fact that my vacations usually consist in either living and working in strange lands or hiking in wilder, lonelier, quieter places, I am glad I walked the Camino, warts and all. I can only guess what was special about the Camino:
All religions, and almost all philosophies, allege that they have the answers to the fundamental mysteries of our existence. They don't (see Russell's article, for example). But they do help us keep the real important questions in the foreground of our consciousness. If you give it a chance, if you approach the Camino in the right frame of mind, if you spend at least some of your time alone, the Camino will help you forget life's transitory pains and goals and bring you closer to the fundamental questions of your existence.
The contemporary world places too much emphasis on selfishness and materialism. Yet, we are happiest when we are given a chance to cooperate (see for example, anthropologist Vilhjalmur Stefansson's wonderful article, "Lessons in Living from the Stone Age;" in Harlow Shipley's, A Treasury of Science, 1946), nurture our spiritual side (we can't indeed live happily by bread alone), experience genuine camaraderie. The Camino satisfies these needs.
For a few precious weeks, the Camino allows you to partake in a mass movement of people, the kind of movement that is embodied in the spiritual "Follow the Drinking Gourd" (above), or that is captured in the following quote (John Steinbeck, "The Leader of the People"): "It wasn't Indians that were important, nor adventures, nor even getting out here. It was a whole bunch of people . . . westering and westering."
Unlike some wilderness tracks, the Camino is safe, affordable, and pleasant. You have a set goal which you share with 100s of people you meet along the way, you get all the physical exercise you might want, eat well, sleep well, shower every day. It's a stress-free, crime-free, cheating-free, experience. And all this can be purchased for a few dollars a day!
¡Buen Camino!